In the resolution of the call for aid for 2020 in the educational field of the Erasmus Plus Program, the project "VIRTUAL INTERNSHIPS IN TECH CENTERS: TRAINING VET STUDENTS WITH OBSTACLES INTO A INNOVATIVE DIGITAL METHODS OF REMOTE WORKING AND ELEARNING CREATED FROM COVID-19" was granted by the Spanish National Agency-SEPIE.
.
.
BRIEF SUMMARY
The severe COVID-19 pandemic has caused dire health, economic, social, and political consequences in the short and medium term. However, coronavirus has also generated a cultural paradigm shift that will be reflected in the medium and long term; things are not going to be the same and neither will the way we work, study, live…
After coronavirus, changes to the workplace and education are going to be significant. The lines of work established by the different European governments advocate decisively on teleworking, but this requires completely new skills from the worker, for which they have not been trained: initiative, responsibility, self-management… especially in the technology sector where responsibility and demand is much greater.
In the educational field, measures are being structured to promote virtual learning, especially in the field of Vocational Training, facilitating combined and virtual mobility as an alternative to on-site learning, as response mechanisms to new waves of COVID-19, but also as learning mechanism for the new work environment that is expected to be established in the future.
These measures, however, are not easy to implement and require creating new tools, or adapting existing ones to totally new methodologies to which neither companies nor students and teachers are used to. This is especially important in a sector as dynamic and complex as technology, and more so when it directly impacts young persons in a situation of exclusion.
These young persons find even more barriers in situations like the one we are living, which make it difficult for them to participate in innovative practices that require specific equipment and training. However, denying these students with obstacles the possibility of internships in leading companies is depriving them of a magnificent opportunity to achieve their inclusion, build competitive resumes, and access the labor market.
This is why we propose to create an effective mechanism to carry out virtual internships in high-tech centers, specifically focused on students at risk of exclusion, and with the objective of training their critical and scientific thinking and the job culture and responsibility necessary for teleworking. Our methodology does not require purchasing expensive digital equipment or investing productive time in specific training for the student.
All of this will be achieved through an intersectorial strategic partnership between Spain (IKASIA, REDTREE), Greece (KATO ACHAIA), France (GRETA DU VELAY), Portugal (SOMATICA, W4A), and Italy (SMALLCODES), them being 3 VET centers, 3 high technology companies, and 2 experts in digitization and educational methodologies, who during 24 months will hold 4 transnational meetings, periodic virtual meetings, national activities for the creation of results, visibility activities, training activities for participants and for the inclusion of those in situation of social exclusion, 2 highly impactful multiplier events (in Spain and Greece), dissemination activities, etc.
In short, we propose a project with the real capability of having a very positive impact, not only on the process of digitization of education, but also on students at risk of exclusion themselves, who are especially weak when faced with critical situations like the ones we find ourselves in. They will in turn have a positive impact on the technology companies themselves, which will improve their pathways to teleworking and will find in VET students at risk of exclusion the opportunity to improve their workforce with well-trained students to face this new challenge.
.
INTELLECTUAL OUTPUTS
O1. METHODOLOGICAL GUIDE: VIRTUAL PRACTICES IN TECHNOLOGY CENTERS.
This guide, aimed at teachers of VT centers and tutors of technology companies, is focused on offering all the information, protocols, documentation and control instruments that technology companies and VT require to implement innovative and effective virtual practices that do not require large amounts of training. investments or seasonality. costs, as well as adapted to the demands of teleworking and the economic, social and cultural obstacles faced by VET students who benefit from this project.
.
O2. DIGITAL COURSE: LEARNING SIMULATION ENVIRONMENT IN TECHNOLOGY CENTERS.
It consists of a digital course, focused on vocational training students with obstacles, with the aim of training them with all the knowledge and skills necessary to successfully carry out virtual practices. This course, based on self-study, makes it possible to fill the gaps inherent in virtual labor mobility for both VET students (difficulty in participating, barriers to integration in work teams, frustration, tension and restlessness, as well as a feeling of feeling poorly supported) and for the host technology company (having to invest a lot of time in the student's training, few results and little efficiency in their work).
.
.
TANGIBLE RESULTS
R1. DIGITAL TOOL BOX
This E+ Project proposes to create an innovative methodology and effective tools that make use of critical and scientific thinking, as well as fostering a work culture and the necessary responsibility of teleworking, so that VET students at risk of exclusion have the opportunity to carry out virtual internships. in the technology sector, achieve their inclusion, obtain technological competitiveness and access the labor market.
In order to make accessible all the resources to structure the learning and protocolize the follow-up of the work carried out, we have created this tangible result «DIGITAL TOOLBOX» structured according to different jobs, offering in a free license all the tools and protocols to implement the virtual practice system.
.
R2. PROJECT WEB PAGE
R3. ETWINNING PROJECT
R4. CERTIFICATE OF THE VIRTUAL PRACTICE
.
.
TRANSNATIONAL MEETINGS
FIRST TRANSNATIONAL MEETING
Date: July 14, 2021
Place: Valencia (Spain)
Description:
On July 14, 2021, we held the first transnational meeting of the E+ project «VIRTUAL INTERNSHIPS IN TECH CENTERS» at the Ikasia Technologies facilities in Valencia (Spain).
During the meeting, we carried out the evaluation of the preparation phase, all the key aspects of the project were presented and the materials created during the "Dissemination strategy elaboration stage" were presented.
The heads of the partner entities participated in this meeting, which made it possible to deal with issues of preparation, follow-up and assignment of tasks and responsibilities. Likewise, it was a great opportunity to strengthen ties between participants and entities, generating mutual learning.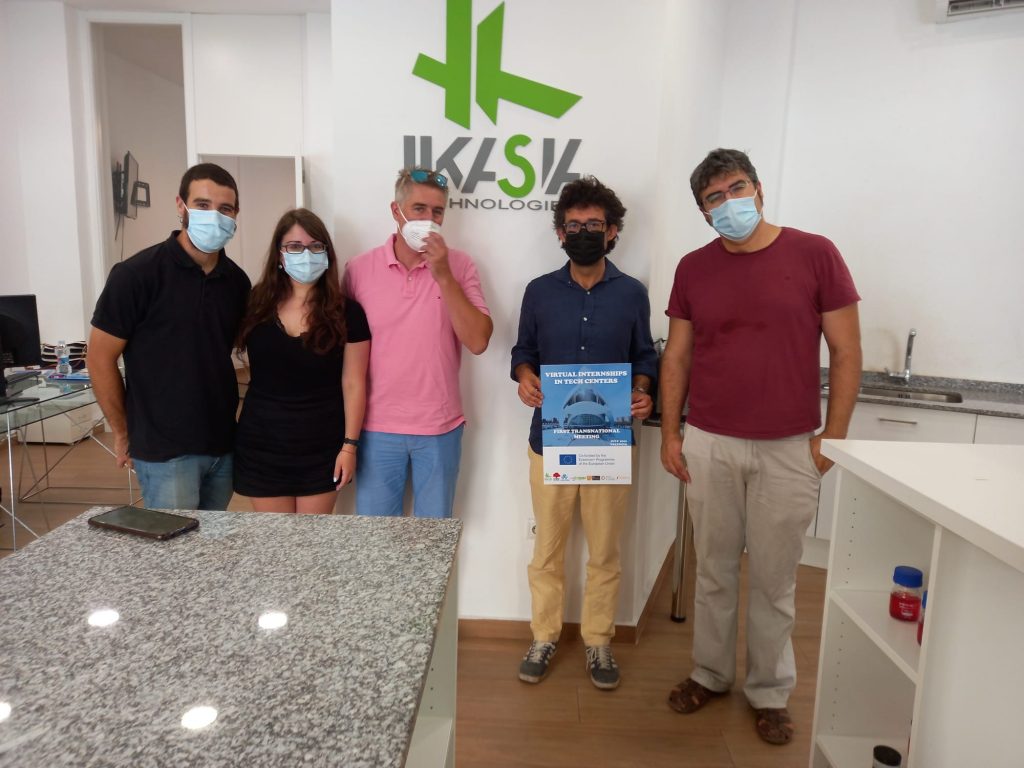 .
SECOND TRANSNATIONAL MEETING
Date: February 10, 2022
Place: Braga (Portugal)
Description:
We have held the SECOND TRANSNATIONAL MEETING of the E+ project "VIRTUAL INTERNSHIPS IN TECH CENTERS" at the SOMATICA, M&S facilities in Braga (Portugal). At this meeting, which was attended by representatives of the project's partner entities, we focused on advancing the results. On the one hand, we deal with the progress of the O1. METHODOLOGICAL GUIDE: VIRTUAL INTERNSHIPS IN TECHNOLOGY CENTERS and we present the O2. DIGITAL COURSE: LEARNING SIMULATION ENVIRONMENT IN TECHNOLOGY CENTERS and simulator design for the 5 jobs included in the course. On the other hand, we present the implemented design of the tangible result R1. DIGITAL TOOLBOX.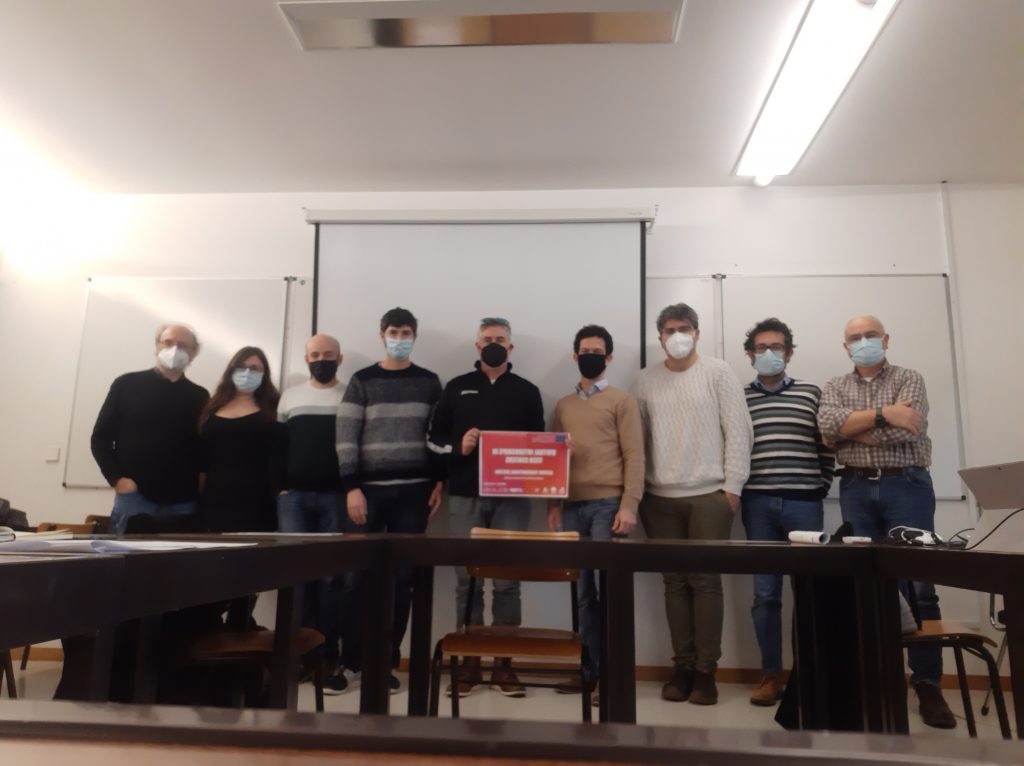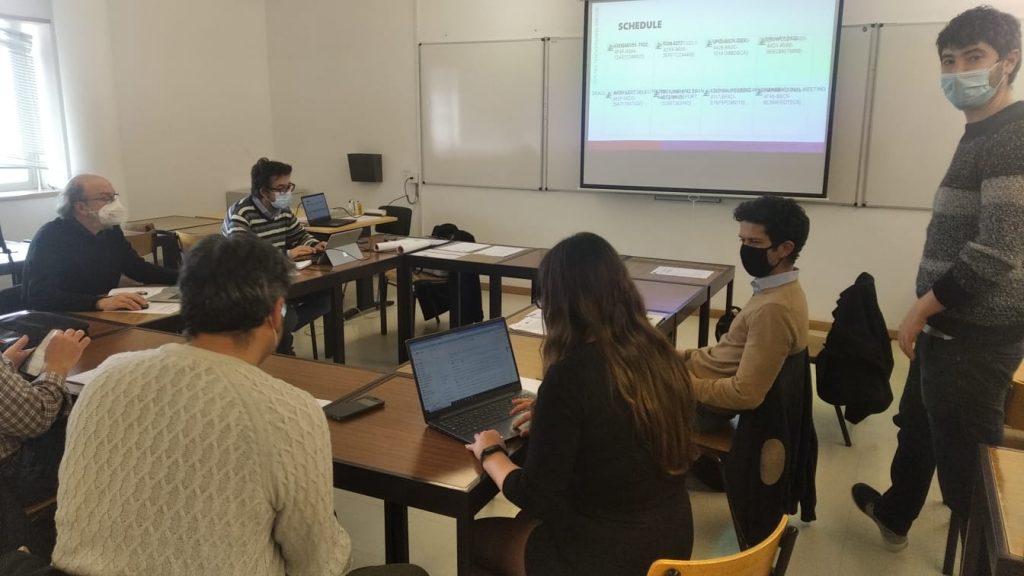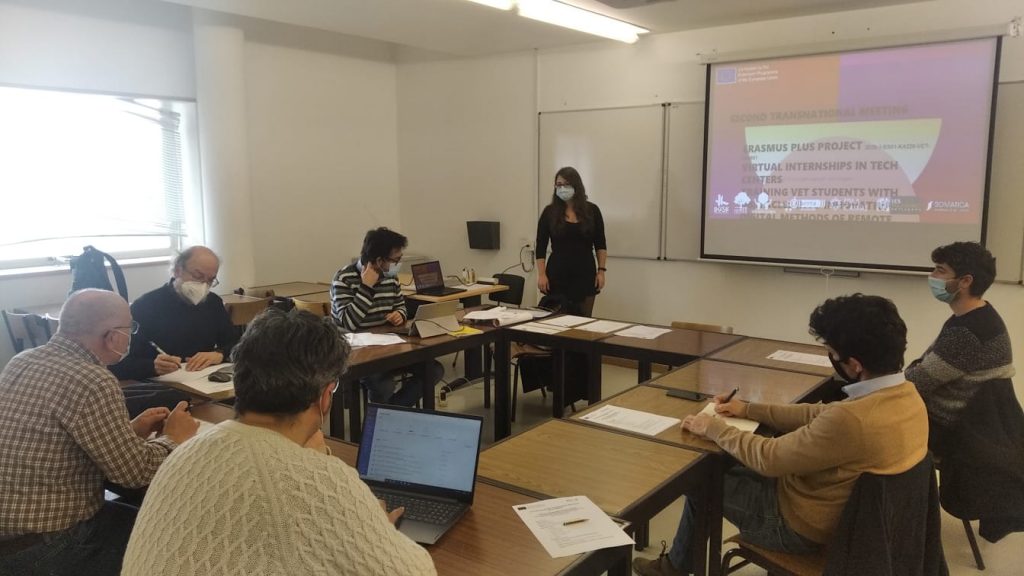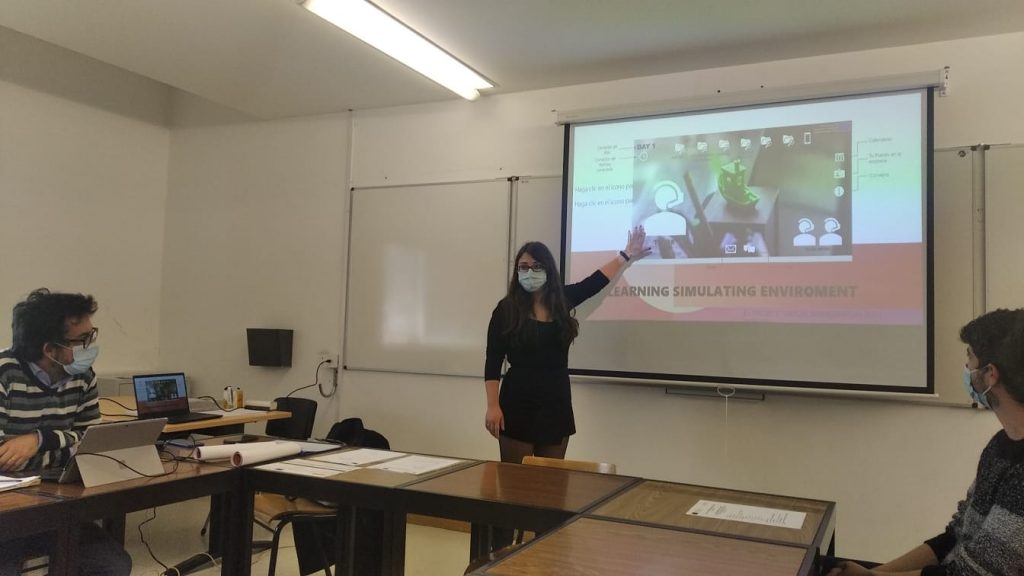 .
THIRD TRANSNATIONAL MEETING

Date: May 17, 2022
Place: Valencia (Spain)
Description: We have held the third transnational meeting of the Erasmus Plus project «VIRTUAL INTERNSHIPS IN TECH CENTERS» at the Ikasia Technologies facilities in Valencia. In this meeting, after analyzing the current situation of the project, we focus on the presentation and assessment of the work carried out on the intellectual and tangible results, as well as on the definition of its final design. In addition, the plan of activities and events for the dissemination stage that will begin in December of this year was finalized. This meeting was attended by those responsible for the concretion of results of the entities participating in the project, which allowed us to move forward according to the planned schedule.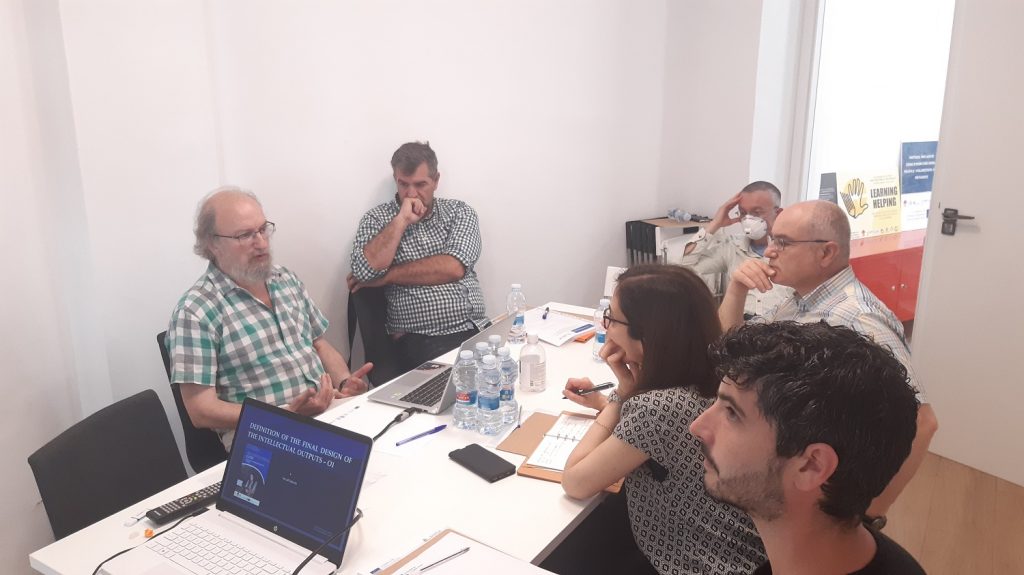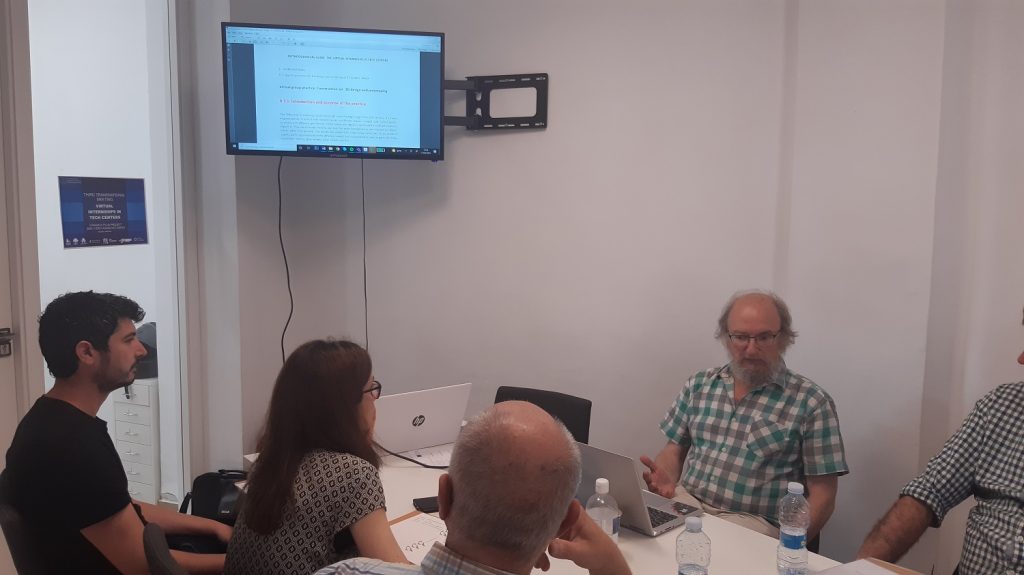 EUROPEAN PARTNERSHIP